Our Mission
Western Michigan Christian's mission is to educate with excellence, integrate faith with knowledge, equip students to work and serve Christ in their communities.
Statement of Faith
The mission of West Michigan Christian Schools is based on God's infallible Word, the Bible, as explicated by the Reformed tradition; all association members subscribe to this summary:
All association members, including teachers, must subscribe to the following statements as accurate summaries of the Word of God about Christian education:
Our Story: WMC History
Looking Back
Established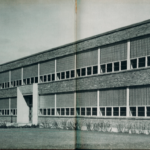 Western Michigan Christian High School is owned and operated by the parents and friends to whom it serves. The idea of a Christian high school in western Michigan was in the minds and hearts of a group of God-fearing parents as early as 1942.
Founded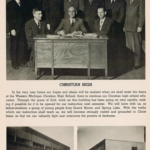 By parents from three area Christian elementary schools desiring Christian education through the twelfth grade. These three schools were: Fremont Christian, Grand Haven Christian, and Muskegon Christian; they were joined shortly thereafter by New Era Christian. These schools were united by a desire for Christian education from a Reformed perspective.
Opened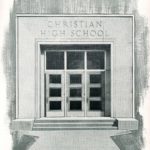 The school doors were opened to 125 students and eight staff.
Over the years, WMC has had several building projects to match both growing enrollment and athletic success.
Building Addition
A combination gym/auditorium was added, along with a commons area, kitchen facilities, and more classrooms.
Field Addition
Performance soccer field (still used today) and a track.
New Campus
WMC moved to the Ellis Road campus.
Building Addition
Performance and practice gymnasiums added to Ellis Road facilities.
Middle School Added
WMC added a middle school to the campus. This added approximately 50 students and four staff to the school population.
Field & Building Additions
New soccer field, baseball field and track. Two new additional middle school classrooms including a science lab.
Faith Statement
We believe in one eternal God as revealed in the Bible as Father, Son, and Holy Spirit. God is omnipotent, omniscient, and omnipresent.

We believe the Bible is the infallible Word of God. lt is the standard by which we measure our faith and practice.

We believe that humanity has been separated from God through sin. The brokenness of the world was caused by humanity's disobedience.

We believe in the deity of our Lord Jesus Christ. We believe he was born of the Virgin Mary, lived a sinless life, died for us and our salvation, rose from the dead, ascended to the right hand of the Father, and he shall return in power and glory.

We believe salvation is given only by grace through faith in Jesus Christ.

We believe that Jesus Christ is Lord over all creation and all subject areas.

We believe that our faith guides our learning and practice. Furthermore, our faith calls us to action. Believers are called to spread the good-news of Jesus Christ and impact our world for God's glory.