The Western Michigan Christian High School First Robotics team entered their first-ever competiton and earned the most points by a rookie team and brought home the rookie trophy. Here is a link to the award-winning event at Orchard View, including the team walking through the congratulatory line after receiving their award.
Team Captain Siyabulela (Paul) Tyaliti reflects on the season
I miss Robotics already. I enjoyed every moment of building our robot during build season and every moment of competing on last Friday's and Saturday's competition. I can't wait for the next competition at East Kentwood High School on March 29th and March 30th. Hopefully practice goes well on Saturday. It was nice working with everyone on the team. I really thank the Lord for bringing across some of the smartest people I've met at WMC and allowing me to work together with them in our school's robotics team. I love all the friends I've made and people I've worked with in robotics. One of the things I'm thankful for the most is to be amongst people include me in everything we do and share fun times and memories with me regardless of one's shyness to socialize or personality. I can't wait for our Robotics celebration. Seeing the Lord's hand in Robotics was awesome. Through all the stressful times when things did not go so well or when things did not go as planned to even all the triumphs and comebacks we had, one of the most memorable things from all those times is that no matter what we always stuck together as a team. One of the things I love about our team is the way we're all united and bond together as a team. From what I've experienced in our team, I think we're far more than a team. Being part of the team has shown me that it's not just being part of a team but also being part of a family and a community where everyone values one another and each other's ideas. It's pretty saddening that Robotics is about to be over for the year quite soon. It was pretty neat to be together with people who have similar interests to me and to get to not be the only stereotypical 'nerd' in the room. Getting to know each other better as a team and as individuals was pretty fun.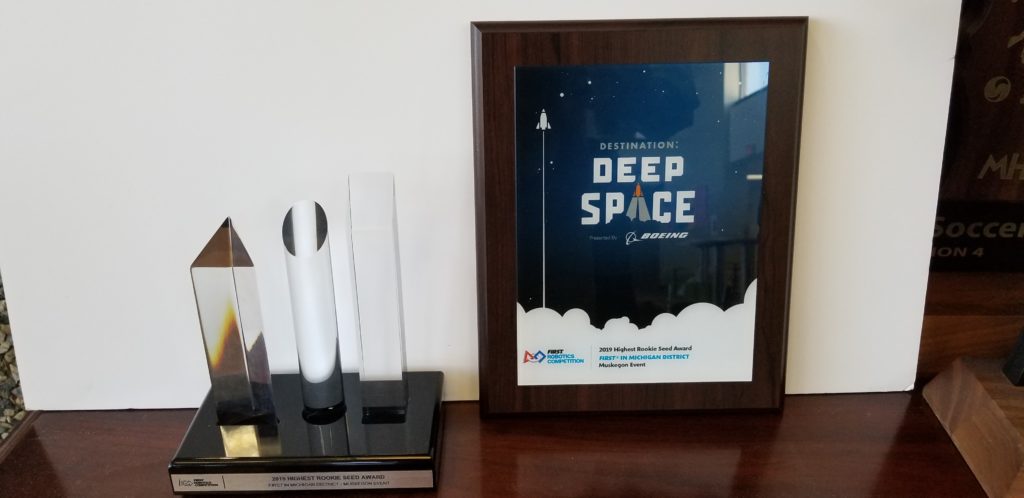 Team enters final competition at East Kentwood HS March 28-30
Coach Dan Garland takes his team, senior captain Paul Tyaliti, sophomores Caiden Flint, Luke Soave, Trent Wallace, and freshmen Ben Ferrier and Peter Brink to East Kentwood to compete in their final competition of the 2018-19 season. Here is a link to that event, including a watch live link.
The team learned a lot this year and although they will be losing their senior captain, they have a lot to build on. Here arwe some of the things they learned:
That adversity is something we will experience in our lives and how to handle it.
That working as a team is much more efficient than working alone.
That failure is an excellent teacher when practicing something.
That teammates are there for each other when the going gets tough.
Western Michigan Christian (WMC) High School and Middle School (7-12th) is located at 455 East Ellis Rd. Muskegon, including 360 students from 5 countries, 30 cities, and 75 churches. WMC is a member of West Michigan Christian Schools(WMCS), a collaborative system of five schools throughout the Lakeshore region, including Fremont Christian (PK-8), Grand Haven Christian (PK-8), Muskegon Christian (PK-6) and New Era Christian (PK-8). The WMCS system works under a "Better Together" philosophy, offering a top-quality PK-12 Christian Education experience and a full scope of academic and extracurricular programs. Please >> click here to contact WMCS.