Fred VandenBrand – a hall of fame journalist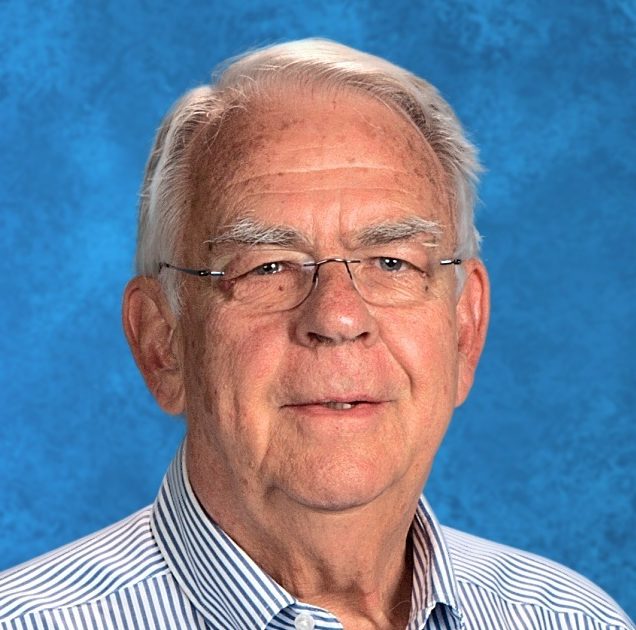 Western Michigan Christian School's very own Assistant Athletic Director, Fred VandenBrand, was honored today in the Grand Haven Tribune for his tireless and extraordinary efforts during his tenure there as managing editor.
GH Tribune community columnist, Len Painter, recalled the days when Fred worked at the Tribune and highlighted some of his contributions as a writer and a man of character:
"I certainly agree that Falls and Waldmeir belong in the hall of fame, as well as many other notable journalists in the state. According to the Michigan Hall of Fame, nominees are judged on their contributions to Michigan journalism, courage, innovation and leadership.

While he isn't in the hall of fame, Fred VandenBrand, former managing editor of the Grand Haven Tribute, fits those attributes.

Fred worked 35 years at the Tribune, including the last 20 as managing editor before retiring in 1998. Fred was one of the most respected editors in the state. He was the key factor in the growth of the Tribune.
Fred was a great journalist but he also cared about the welfare of his co-workers and was an integral part of the career of many young journalists.
Fred's reputation as an editor was impeccable. He helped develop many young journalists who moved on to bigger careers and was well-respected as a leader in the community.
"I am thankful for the legacy that our Assistant AD continues to leave here at WMC. Congratulations on this well deserved honor, Fred!" shares WMC Athletic Director, Kurt Gruppen.
Fred graduated from Western Michigan Christian in 1961 and has been working at his alma mater for about 15 years. He enjoys building relationships with students and keeps his writing chops honed as the editor of the WMC Sports Update, a daily e-newsletter that covers all things Warrior sports! To sign up for the WMC Sports Update email click here. 
To read the full article on Fred in the Grand Haven Tribune click here.
Congratulations Fred! Your Warrior family loves you and we are so grateful to have our very own Hall of Famer gracing our halls, fields, and courts!
Western Michigan Christian (WMC) High School and Middle School (7-12th) is located at 455 East Ellis Rd. Muskegon, including 360 students from 5 countries, 30 cities, and 75 churches. WMC is a member of West Michigan Christian Schools (WMCS), a collaborative system of five schools throughout the Lakeshore region, including Fremont Christian (PK-8), Grand Haven Christian (PK-8), Muskegon Christian (PK-6) and New Era Christian (PK-8). The WMCS system works under a "Better Together" philosophy, offering a top-quality PK-12 Christian Education experience and a full scope of academic and extracurricular programs. Please >> click here to contact WMCS.