Principal Award-All A's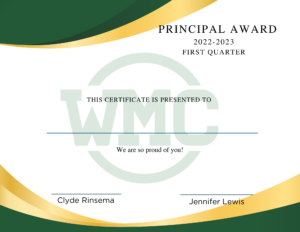 Julia Best, Emersyn Bonnema, Mason Bonnema, Allie Buchner, Alyssa Dykstra, 
Emma Hallaha, Sam Hwang, Linnea Larson, Dexter Lillmars, Ryleigh Moore,
David Ritzema, Jackson Start, Drew Sytsema, Molly Visser, GillyAnne Beckley,
Alyssa DeVries, Hudson Fair, Ezra Foreman, Brody Haveman, Carter Heimiller,
Lillian Heimiller, Braedon Hoffman, Cole Huizinga, Rebecca Johnston, Amelia Oppenhuizen,
Ava Post, Josiah Scholma, Paisley Slorf, Leah Sneller, Ian Vanderstelt, Lucas Weare,
Reuben Anderson, Annalise Bonnema, Audrey Detar, Annabelle Dykstra, Lucia Folkert, 
Luke Proctor, Natalee Tyink, Meaghan VanBruggen, Zachary Weare, Zoe Bourdo, 
Cole Dejonge, Maria Eenigenburg, Seohyun (Shawna) Kim, Demitri Lawrence, 
Morgan Lawrence, Melia Medendorp, Brody Medina, Maxwell Miller, Matthias Morse, 
Phuong (Lily) Nguyen, Grace VanderKooi, Kirsten VanOrman, Emily Warp, 
Autumn Alderink, Tressa Arkema, Kaiya Betten, Andrew  Brink, Nadia Burr, 
Fisher Campbell, Emma Croff, Katherine Derdowski, Grace Folkema, Kabir Ghotra,
Jacob Hwang, Laken Konyndyk, Elise Lenertz, Eli Malek, Samuel Mulder, Matthias Parker,
Katelyn Rosema, Sydney Sytsema, Beymi Tapia Fernandez, Hannah Abel, Jaden Binnendyk,
Jonathan Clausing, Claire Doty, Adrian Douglas, Joseph Eastway, Jessica Eenigenburg,
Cate Garretson, Casey Gould, Bradey Grimm, Naomi Huttenga, Vi (Ken) Huynh, 
HyeongJun (Jun) Kim, Emily Matz, Shauna McCormick, Gerrod McDaniel, Anna Morse,
Jared Olsen, Allison Oppenhuizen, Isabelle Post, Jonathan Rogers, Sam Sipe, 
Makenna Sytsma, Nicholas Taylor, Anh Van (Jenny) Trinh, Sydney Wagenmaker
Honor Roll-All A's and B's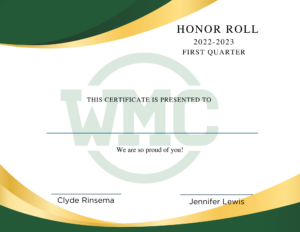 Devin Bakay, Jackson Bauer, Xavier Brown, Silas Cowan, Akira Culp, Arie Dubois, 
Sonny Gomez, Hanna Haveman, Addelyn Kingshott, Carter Lindale, Benjamin McCanless
Elaina Postema, Anthony Rosario, Brooklyn Seaver, Noa Wydeveld, Collin Best, 
Connor Chapel, Juan DeJonge, Kaleigh Herrera, Ryder Nadeau, LaYonna Sandford
Hannah, Steenhagen, Kyler Studer, Autumn Brown, Olivia Carlson, Paige Chapel
Mia DeJonge, Jakin Doornbos, Khristian Dornbos, Kasey Folkema, Kaitlyn Gould, 
Hunter Johnston, Audrey Kingshott, Lucas Matz, Ava Meiste, Avery Menefee, 
Noah Noonan, Lauren Olsen, Grey Patterson, Noah VanWoerkom, Evangeline Zenz,
Alia Zuidema, Shalene Brooks, Pau Castells Catalan, Nathan Clausing, 
Alexander Douglas, Levi Dutton, Annikha Esnaola, Benjamin Evans, Dakota Harper,
Madalyn Larrison, Alexander Lawrence, Hallie Lindale, Luke Maat, Caleb McKay,
Daniel Minasian, Daniel Moorhead, Aiden Rotman, William (Will) Seaver, Lilliana Slorf,
Derek VanderWall, Benjamin Visser, Tessa Baker, Isabelle Brower, Charles Buursma,
Jonas Dutton, Ashley Folkema, Ramon Garrido Mogilnicki, Ella Hawke, Diego Huby Flores,
Seowoo Kang, Molly Kooistra, Estella Kuiper, Samuel Kuiper, Magdalen Lubbers, Daniel Maat,
Benjamin Moorhead, Hang (Regina) Pham, Margaret Pope, Damaris Rodriguez, 
Caleb Tejchma, Brooklyn Watts, SeoJin Yeo, Elijah Zenz, Kayla Balder, Braylon  Carney,
Siyeon (Riley) Cha, Meralee Detar, Emily Fett, Sophia Hendrie, Yunah Kim, Ashton Leffring,
Aleiah Nail, Franc Ortega , Gavin Riksen, Emily Selby, Emily Snyder, Phat (Andrew) Tran,
Jace VanDerWeide, Jonathan Williams, Kendal Young, Brianna Zuidema
Honorable Mention-All A's and B's with one C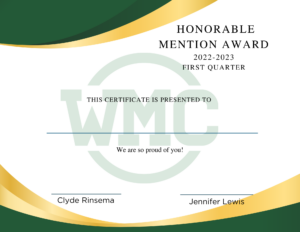 Vyera Bock, Meredith Bonnema, Bianca Brooks, Dillon Kleyn, Jamilyn Pope, 
Jonathan Robertson, Celia Lenertz, Seth Moorhead, Braeden Olsen, Benjamin Rider,
Micah Rinsema, Owen Sytsema, Luke Visser, Maelin Vlasma. Taylor Balder, 
Dogeon (John) Lee, Elijah Nail, Miley Porter, Bjorn Warp, Jason Braun
Abigail Leffring, Guiseppe McNair, Tessa Orr, Eloisa Ortega Rosado, 
Fracesc (Paco) Sastre Garcia, Shirley (Manuela) Seaver, Tekalegn Vlasma,
Alexander Wagenmaker, Margaret Bytwerk, Henry Hubers, Eleanor Kingshott, 
Charles Kuiper, Alexander Meyette, Lela Nader, Havily Jones, Matthew Lundborg
P.I.E. Award-Progress In Education
Ethan Gould, Grace MacNeil, Julissa TerHaar, Mya Moran, Matthew Bradford-Royle,
Trevor Clapp, Owen Sytsema, Isabelle Eschman, Kimora Frierson, Rafael Delgado,
Cody Folkema, Sonny Gomez, Alex Wagenmaker, Roman Knoll, Charlie Kuiper, Sungmin Lee,
Anh (Jessica) Vu, Kaleb Armstrong, Justyn Gould, Anh (Chloe) Ngoc Phan
Perfect Attendance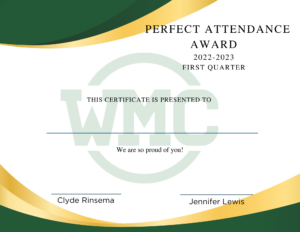 Julia Best, Benjamin McCanless, Collin Best, Ayla Adams, Hunter Johnston, Luke Proctor
Natalee Tyink, Meaghan VanBruggen, Alexander Douglas, Melia Medendorp, Matthias Parker, Braylon Carney
Western Michigan Christian (WMC) High School and Middle School (7-12th) is located at 455 East Ellis Rd. Muskegon, including 355 students from 7 countries, 48 cities, and 90 churches. WMC is a member of West Michigan Christian Schools(WMCS), a collaborative system of five schools throughout the Lakeshore region, including Fremont Christian (PK-8), Grand Haven Christian (PK-8), Muskegon Christian (PK-6) and New Era Christian (PK-8). The WMCS system works under a "Better Together" philosophy, offering a top-quality PK-12 Christian Education experience and a full scope of academic and extracurricular programs. Please >> click here to contact WMCS.