Pastor Samuel Greer started Project Grace in December of 2000 at Western Michigan Christian as a way for students and staff to give to those in need along the lakeshore. Twenty-one years later he is now the Principal at WMC and reflecting on year 21 of Project Grace, "Every year I get an opportunity to see God's hand at work in the lives of students and staff at Western Michigan Christian High School and Middle School. One of the greatest expressions of God's presence at our school is Project Grace. Each year we have seen God's faithfulness in that he has enabled us to reach families in his name." WMC students have raised over $140,000 over 21 years to provide food, clothing and gifts to families in need. This year students raised $10,360 during the fundraising event. "It was a bit challenging this year because we were virtual the week after Thanksgiving and only had one week to raise money. But God is good. We exceeded our goal of $6,500 and had one of our top 5 years of giving," said Greer, "We continue to be amazed by God's blessings."
This year's focus was Rise Up to Transformation and to be cheerful givers. 2 Corinthians 9:7 asks that we not give reluctantly or out of compulsion and tells us that God loves a cheerful giver. Students focused on giving with a changed heart. This has been the theme all year and it is especially timely as we still face challenges with Covid 19. Mark Hill, Dean of Students and Middle School Science teacher for the school, coordinated the student efforts and was pleased with the way the project came together, "I was blown away to see our community of students, staff and families come together in the midst of these difficult times to reflect God's love and grace for us and give to others. That is what Christmas is about." This year WMC delivered Meijer gift cards and gifts to 8 families in the area. Individual classes competed in a daily competition. This year's winning class, David Miedema's 2nd hour Economics class, raised the most money and will be able to deliver the gifts.
David Miedema applied the concept of personal finance to Project Grace and students in the Economics class will focus on developing their own personal finance mission statement as a final project. "This really applies to life," says Miedema, "The Bible has a lot to say about finance and giving and it has been a blessing to see our class come together and actually build community as we raised money and then brought the money in to be counted. My prayer is that students will develop a posture of giving and generosity as an act of worship instead of giving out of selfish ambition or obligation." The class raised $146 per student for a total of $2,772. Cate, a WMC junior in Mr. Miedema's 2nd hour Economics class, took the project to heart, "There are hundreds of verses in the Bible talking about greed. And Jesus said it is easier for a camel to get through the eye of a needle than a rich person to get into heaven. We need to give because we can. Our class worked hard on this by collecting pop cans, coins, and even doing a cutest pet contest at a basketball game." 
Students shopped for food, clothing and gifts for families on Tuesday the 14 and wrapped the gifts. Mr. Miedema's class delivered the gifts to families on December 15. Jessica, a junior student in Mr. Miedema's class, was glad to be able to help a family who has recently experienced a car accident and loss of employment, "We found out that the dad was in an accident and is now out of work. They have young children and it is great to be able to provide a solution for them as they go through this difficult time."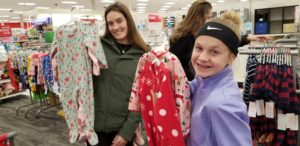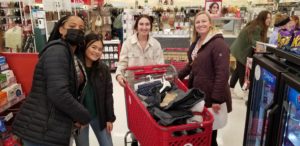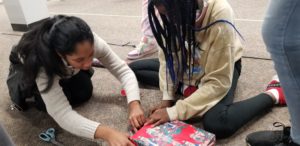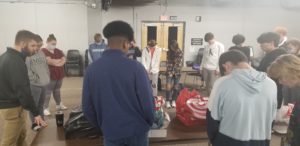 Project Grace:
We will be collecting money each day in your 2nd hour classes. Each day the money will be counted.  You can also have your money designated for a certain giving day.  At this time, we are only able to accept cash or checks- made out to WMCHS with Project Grace in the memo line.  Our goal is to raise $6500 as a school.
Designated Giving Days: 
Today was our 1st Designated Giving Day!  Today's winners were Mr. 
Hill

's 2nd hour class (His was the only class to designate today's collection for this).  Remember that the total money is divided by the number of students in your class in order to make it fair for each class.

Wednesday, December 8: Ice Cream Sundaes

The Project Grace designated giving day winners of the ice cream sundaes is Mrs. Grinage-Guy's 2nd hour class! They raised $197.51- $10.03 per student. This was a tight race between four different classes. There is only one more designated giving day remaining.  The class that brings in the most money on these specific days will win the prize.  Remember that the total money is divided by the number of students in your class in order to make it fair for each class.

Friday, December 10: Buffalo Wild Wings

Congratulatios to Mr. DenOuden's 2nd hour class on winning the Buffalo Wild Wings lunch. They raised $1612 to average $115 per student. Way to go!
Basketball and Project Grace
The 12/7 basketball game has been designated as Project Grace Night.  If you would like to help, please contact Mr.
Hill

.  We hear there may be a bake sale occurring with proceeds going to Project Grace.
WE RAISED MORE THAN $500 at the BAKE SALE! Special thanks to Abby and Grace VanderKooi for baking all the goodies.
12/8 UPDATE: We have raised $896.83  Great Job WMC!
12/9 UPDATE: We have raised $3,400.  Great Job WMC!
12/10 UPDATE: We have raised $8,034 and have exceeded our goal of $6500! 
12/13 UPDATE: We have raised $10,360 which is in the top 5 of all 21 Project Grace totals!
Key Dates & Information:
Tuesday, December 14: Shopping day with teachers to buy gifts & food.  Wrapping done in the afternoon.
Wednesday, December 15: Winning M.S. & H.S. class will deliver gifts.

Western Michigan Christian (WMC) High School and Middle School (7-12th) is located at 455 East Ellis Rd. Muskegon, including 355 students from 5 countries, 30 cities, and 75 churches. WMC is a member of
West Michigan Christian Schools
(WMCS), a collaborative system of five schools throughout the Lakeshore region, including
Fremont Christian
(PK-8),
Grand Haven Christian
(PK-8),
Muskegon Christian
(PK-6) and
New Era Christian
(PK-8). The WMCS system works under a "Better Together" philosophy, offering a top-quality PK-12 Christian Education experience and a full scope of academic and extracurricular programs. Please >>
click here
to contact WMCS.