Highs & Lows
It was a bittersweet ending to the fall sports season at Western Michigan Christian High School.
On Saturday afternoon, Nov. 2, the Warrior soccer team battled University Liggett 100 minutes, 80 regulation and two 10-minute overtime sessions without a goal being scored. The state championship match went to a shootout with WMC scoring four goals and University Liggett three.
What normally would have been a celebration the following Monday was an unusual celebration. The students, faculty and hundreds of family and friends, numbering about 1,000, gathered in Warrior Gym to celebrate, not the state title, but the life of a beloved teacher, Brian Vredevoogd, who had died very unexpectedly a week earlier.
It was a sad day, but a day we could all feel the presence of the family of God.
The soccer team's celebration will be held this winter between games of the basketball season. Date and time TBD.
BOYS SOCCER:
First State Championship Since 2010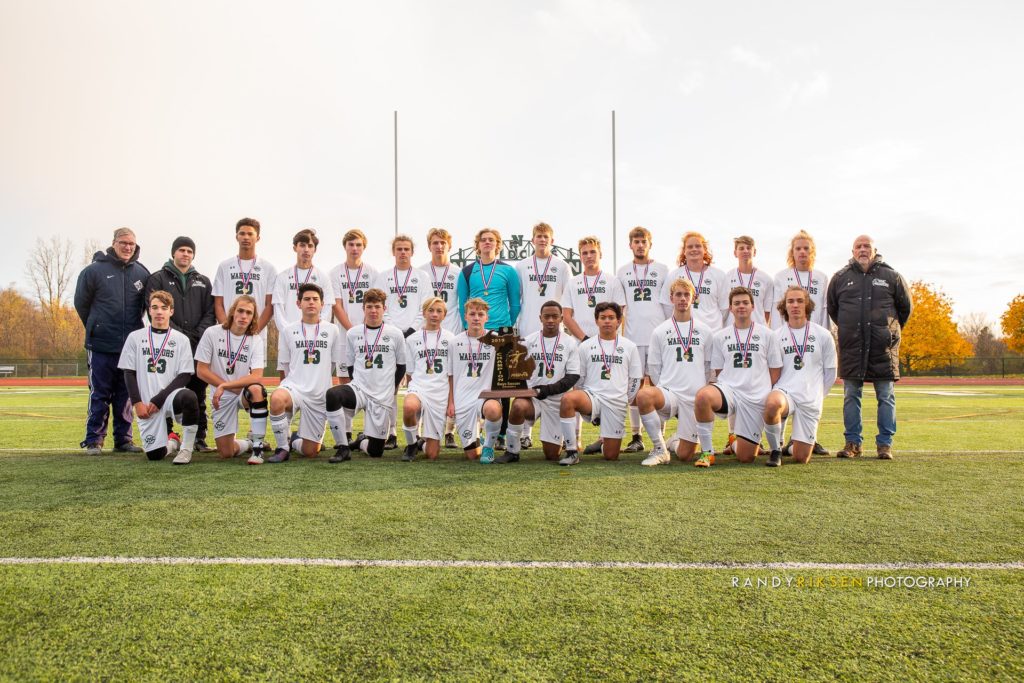 The season started slow for the Warriors with a 4-0 opening loss at Holland Christian, three ties and a disappointing-upset, 2-0, loss to Whitehall in front of a large "Warrior Weekend" crowd.
It appears the Warrior Weekend loss helped propel the Warriors to the state title as they finished the rest of the season without a loss.
As the regular season was coming to an end, it appeared the Warriors, coached by David Hulings, were becoming more focused and they ended the regular season being Lakes Eight Conference champs with a 6-0-2 league record and an overall record of 11-2-3.
Host WMC breezed through the district tournament with wins over Eau Claire, 8-0; Hudsonville Libertas Christian, 6-0 and Holland Black River, 6-0.
The Regional was a different story. The four teams were all ranked in the top five teams in the state in D-4, including No. 1 ranked Grandville Calvin Christian.
The host Warriors opened Regional play with a 3-0 win over North Muskegon and then defeated Calvin Christian, 2-1 in a shootout to advance to the state semi-final game at East Kentwood. WMC shut out Dansville, 2-0 and it was on to Novi for the state championship game versus University Leggitt.
WMC was crowned state champs after keeper Jameson Goorman stopped four of Leggitt's penalty kicks for a 1-0 Warrior win.
GIRLS VOLLEYBALL:
Several Historic Firsts in this Record-breaking Season
Volleyball is a game of stats and six records were broken this season including:

Aces-Match – 17, Esther Hartley vs. Muskegon Heights 2019
Assists-Season – 1311, Chloe Mitchell 2019
Assists-Career – 2724, Chloe Mitchell 2017-2019
Blocks-Career – 195, Chloe Mitchell 2017-2019
Digs-Career – 1239, Meghan Heiss 2017-2019
Team Record 39-11-3 (.764), Trent Smillie 2019 — (Previous record of 27-8-3 was figured incorrectly at .780. That value is actually .750 as a tie counts as half a win and half a loss.)
This year's Warriors girls volleyball team, coached by Trent Smillie, went undefeated in conference play to win the Lakes Eight Conference championship.
The host Warriors defeated Saugatuck and North Muskegon to earn the state district championship and then traveled to the regional at Hesperia where they defeated host Hesperia and then Pewamo-Westphalia for the school's first-ever regional championship trophy.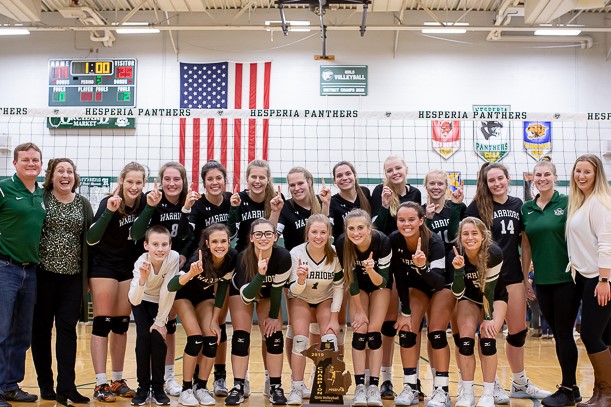 WMC competed in the MHSAA state quarterfinals at Unity Christian High School against top-ranked Schoolcraft. This was the first time WMC made it to the quarterfinals, however, Schoolcraft took the win that day.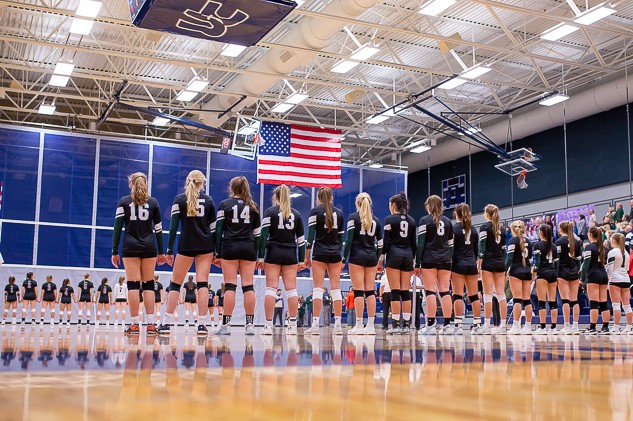 They finished the season at 39-11-3.
After the season ended, the team again made history as senior Chloe Mitchell was named to the all-state first team.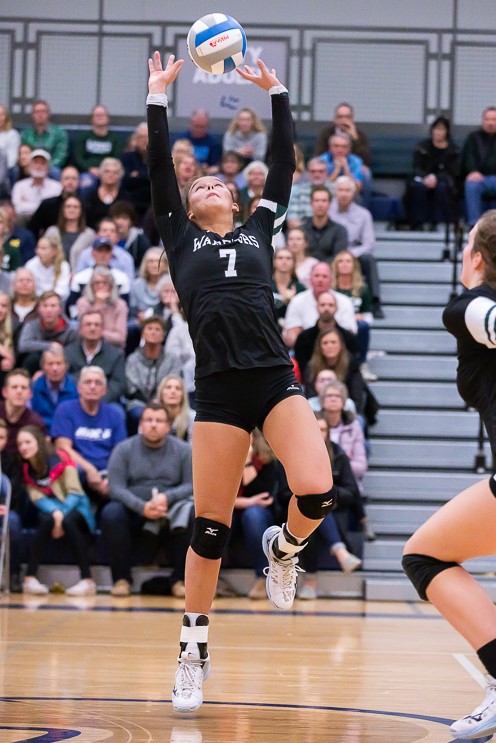 Click on link below to watch Mlive video of WMC history-making regional final win:
CROSS COUNTRY
Repeat State Champ for VanderKooi and State Finals for Team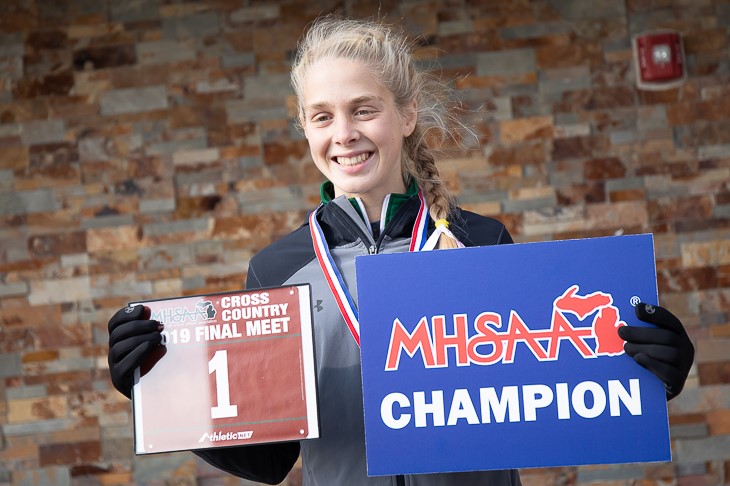 WMC's recently resurrected-cross country program continues to be successful year after year.
The Warrior girls, coached by Kevin Aardema and led by super-sophomore Abby VanderKooi, one of the top runners in the state and nation, finished second to Ludington in the Lakes Eight Conference.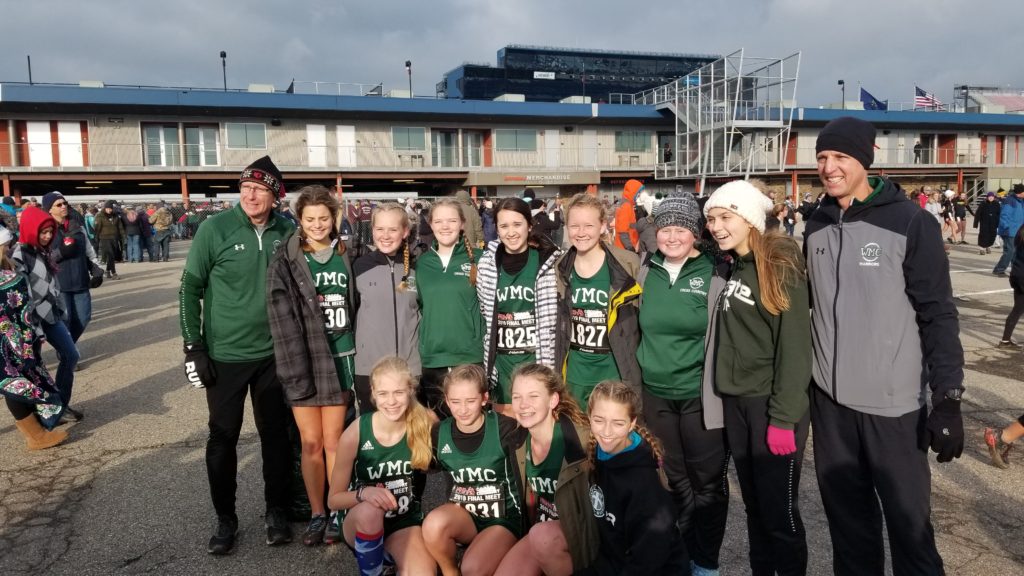 They finished second at the Regional to advance to the state finals at the Brooklyn International Speedway where they finished 8th out of 27 teams and Abby repeated as state champion in D-4.
Abby went through the entire season without losing a race, winning most of them by over two minutes.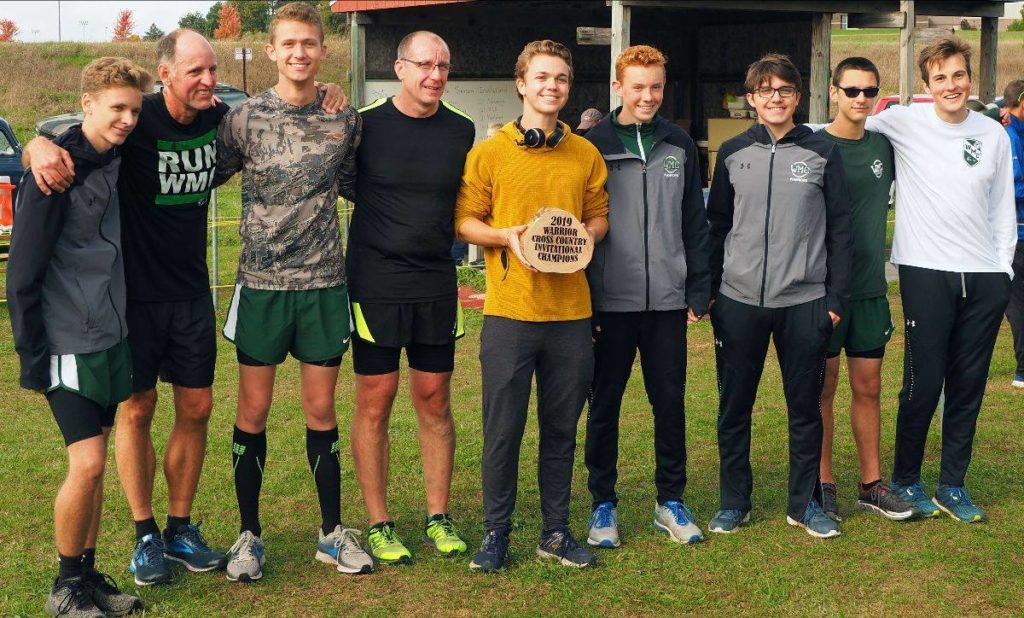 The boys (pictured above), coached by Greg Gould, finished as co-champions with Ludington in the conference and third at the Regional to advance to the state final where they finished 15th out of 28 teams.
GIRLS GOLF: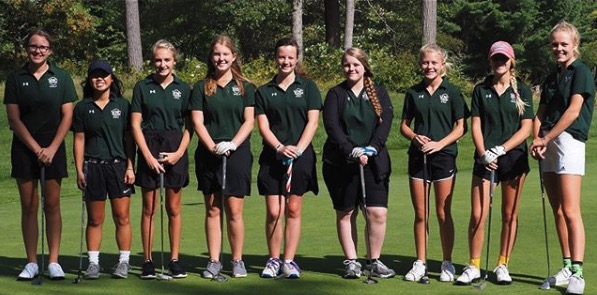 It was a rebuilding year for the WMC girls golf team.
The team, coached by Scott Liggett, was composed of seven sophomores and two seniors (pictured above).
Coach Liggett sees a "bright future" for girls golf at WMC!
BOYS TENNIS: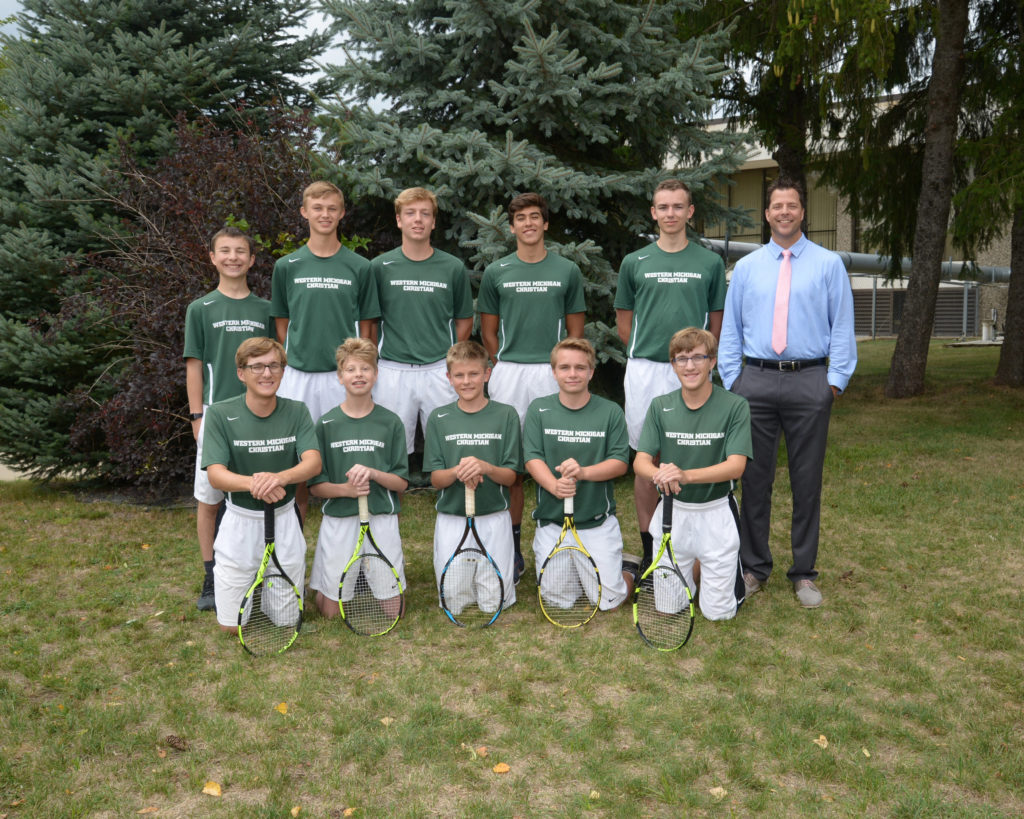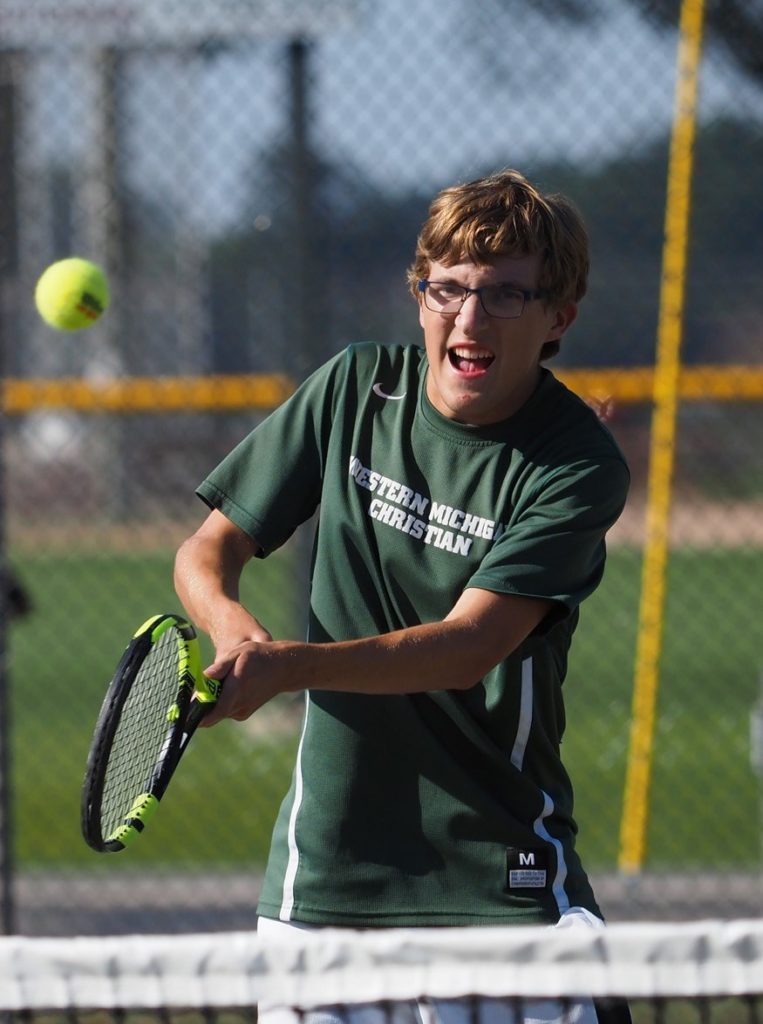 The boy's tennis team, coached by Nick Bennett, showed great improvement over the last few years.
Season Record: 4-7
City Results: 4th Place
Conference: 6th Place
FOOTBALL: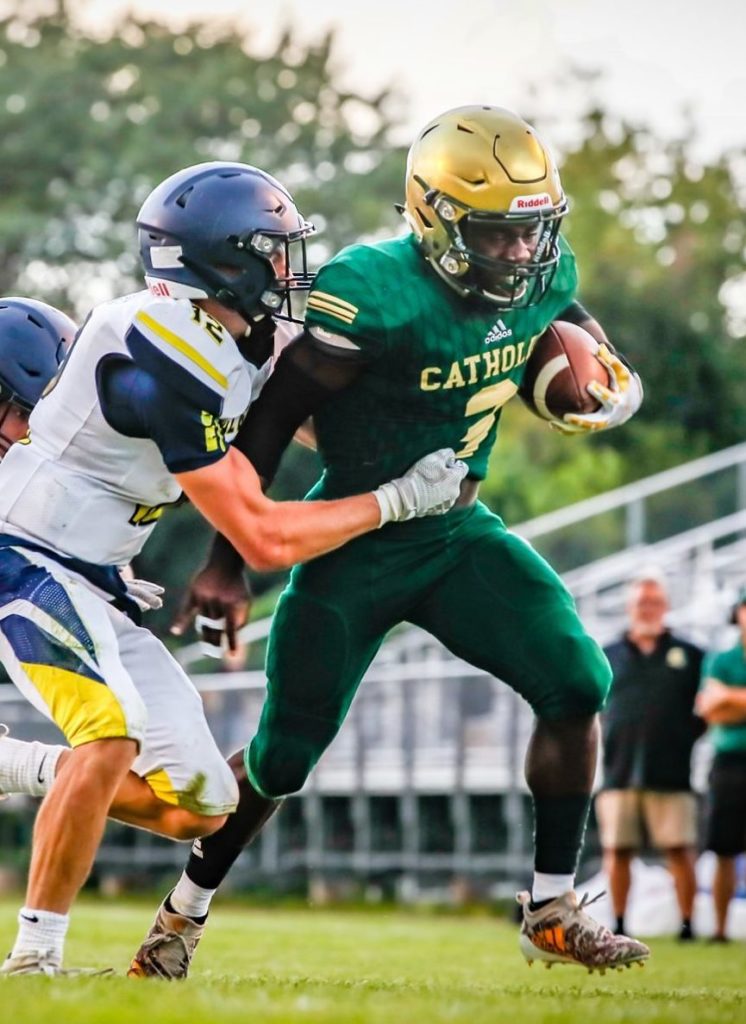 WMC completed its second season of a co-op program with Muskegon Catholic.
The 2019 team turned around from a losing season in 2018 to qualify for the playoffs and finish the season at 6-3.
The team lost to Ravenna in the first round of the playoffs, 14-0.
There were only seven seniors on this year's team.
SWIM/DIVE TEAM
A Historic Season for the Turtles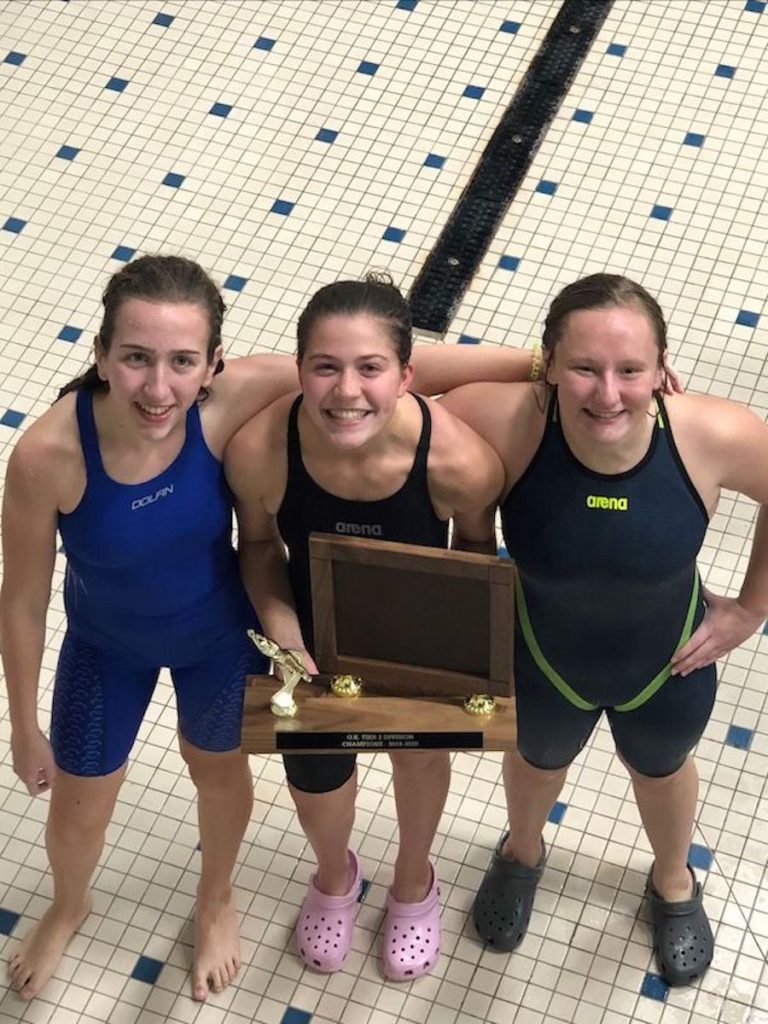 The 2019 Mona Shore/Greater Muskegon Girls "Turtles" Co-op Swim/Dive Team made history with their first-ever Girls OK Rainbow Tier 2 Swim /Dive Conference Championship!
They went the entire season without a loss.
Click here for more information about the WMC Warriors Athletic Program for both middle and high school.