Western Michigan Christian High School Spanish Immersion students can attend a university and work toward a Spanish minor while at WMC. This is due to our partnership with Calvin University. That program includes a summer off-campus Spanish 305 Cultural Enhancement Class in Merida, Mexico for thirteen days. Objectives include speaking Spanish and experiencing culture in a Spanish speaking country.
WMC students that went on that trip this past summer included alumni Ashton Leffring, Naomi Huttenga, and Amaria Greer along with senior students Chalon Anderson, Elise Lenertz, and Sydney Sytsema. Our current students reflected on the trip and shared some of their experiences.
Taking Class in Mexico
School was different. The days were hot. Hot included both dry and humid conditions with an average temperature of 98F that felt like 115F. School days consisted of waking up and traveling to a church to get on a bus to take a 1.5 hour trip to a cultural excursion and then ride 1.5 hours back to the church and have a discussion about the day. The transportation to the church location was different from what the students were used to in America. "I was with a host family that only had one car and so I had to be picked up every day by Chalon's host family," said Sydney. "It's just different when you have to depend on someone else for your transportation." The classes were informative and very busy and the program included Grand Rapids Christian, Calvin Christian, and Forest Hills Central students. Chalon enjoyed the busyness of the school days, "I was never bored and we were moving all the time. It was good to always have something going on, although that fast pace is different from what I am used to at home." 
Life with Host Family and Friends was a Valuable Cultural Experience
The nights were fun. This was when students spent time with their host families and newly-found friends to experience culture. Some of their favorite memories included dinner with host families. This included family activities or going out with friends. Host families were intentionally chosen to include siblings that were close in age to the students. "I really appreciate my host family and can't believe how welcoming my host family was," Elise reflected, "I walked into their home as a stranger and left as a member of their family after only 12 days." Chalon sometimes felt a bit overwhelmed with the amount of care and nurture from her host family, "It was so unexpected. They went above and beyond with the way they welcomed me and engaged with me." Sydney enjoyed singing after the daily excursions, "It was fun to sing in Spanish with our host siblings at church each day." Living with host families allowed for an intense immersion experience with language and culture and the students felt like that was really the best part of the experience because it allowed them to really live life.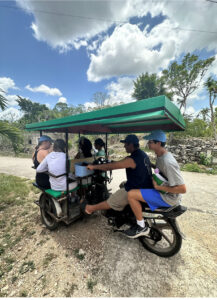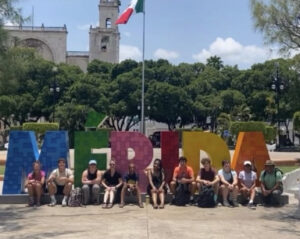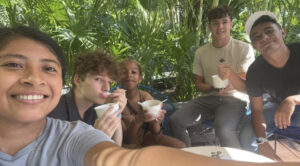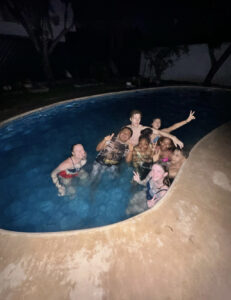 "I now have family and friends in Mexico and have stayed in touch with them. It's amazing." WMC Senior Chalon Anderson
Chalon, Elise and Sydney look back on the trip favorably. Sydney remembers swimming in the underground caves, "Cenotes were one of my overall favorite memories. The underground caves had water we could swim in." Chalon appreciates how fast she formed long-lasting relationships, "I now have family and friends in Mexico and have stayed in touch with them. It's amazing." Sydney sees differences and has a new perspective, "I think people in Mexico are nicer. It's very different atmosphere made me grateful for my life and appreciate my friends and family in a different way." Elise finds balance in life in a new way, "Finding a balance and learning the difference in family life made me reflect on my life here and how much I appreciate that." Being in an immersion experience for 12 days was intense but they all say they would do it again. "Yep, for sure. But maybe I would try and work out a way to stay longer," Elise said.
Western Michigan Christian (WMC) High School and Middle School (7-12th) is located at 455 East Ellis Rd. Muskegon, including 355 students from 8 countries, 35 cities, and 75 churches. WMC is a member of West Michigan Christian Schools(WMCS), a collaborative system of five schools throughout the Lakeshore region, including Fremont Christian (PK-8), Grand Haven Christian (PK-8), Muskegon Christian (PK-6). The WMCS system works under a "Better Together" philosophy, offering a top-quality PK-12 Christian Education experience and a full scope of academic and extracurricular programs. Please >> click here to contact WMCS.